Who are some of the Bands and Musicians Performing Regularly in Fort McMurray?
Posted by Brett Campbell on Thursday, September 11, 2014 at 11:53:29 AM
By Brett Campbell / September 11, 2014
Comment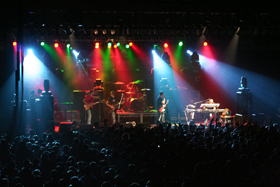 There are many Fort McMurray natives and residents that are very talented musicians who often play at the various local bars and clubs. Some of these musicians are well-known artists who travel all around Canada and the US, and sometimes even other countries. Some of the other musicians aren't as well known and don't travel quite as much but are just as talented nevertheless and you definitely wouldn't want to miss hearing any of them play.
Friends of Jack
This group of guys relocated to Fort McMurray from Newfoundland. The group released two singles to radio back in 2010 called "I Owe You One" and "The Real Deal". They now have a self-titled album out which is available on iTunes, through their website, and at live shows. They often play live at venues throughout Fort McMurray and surrounding areas.
Surface Below
This talented group of musicians is based in Fort McMurray. The style of music they play is quite original as they throw a combination of various music genres into their songs, but it is great music unlike any you've ever heard. They play regularly in Fort McMurray.
The Rural Alberta Advantage
This band consists of two men by the names of Nils Edenloff and Paul Banwatt, and one woman, Amy Cole. Nils Edenloff was raised in Fort McMurray and the group can be seen playing live at various local venues.
Until Dawn
Until Dawn originated in Fort McMurray with their heavy hardcore rock music and in April 2011 they released their very first self-titled album and their success has taken off like wildfire since then. Their song "Table and the Plastic" is played regularly on Rock 97.9 FM. Their album is available for sale at iTunes, Campbell's Music, and CDBaby. You can also find them playing live all around Fort McMurray.
Tequila Mockingbird
Tequila Mockingbird plays a variety of original songs and cover songs ranging from classic rock to alternative rock and even modern rock. They play live on a regular basis in local clubs, bars, and events in Fort McMurray.
Other local music artists you will want to keep your eyes and ears out for include:
Aaron Lines
Mike Roste
Amy Heffernan
A New Monday
Craig Moritz
Stu Marchand
Crossroad Renegades
Hit or Miss
Givenstone
Knife Fight in the O.R.
Gongaflesh
Midlife Crisis
Destranged
Joe Rebel Band
Selena Moss
Hooligans Holiday
Shelly Dubois