Where can You Canoe and Kayak in Fort McMurray?
Posted by Brett Campbell on Tuesday, May 20, 2014 at 7:02:13 AM
By Brett Campbell / May 20, 2014
Comment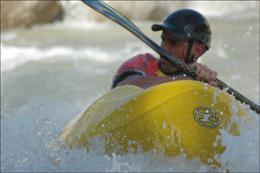 Outdoor fun is what the Wood Buffalo area and Fort McMurray are known for, other than the oil sands. This area of Canada provides plenty of winter fun and when the summer weather comes, there are plenty of outdoor activities to enjoy including canoeing and kayaking. Here are a few of the top spots to enjoy some time on the water.
Christina and Horse Rivers
When these two rivers meet, there's plenty of fun for those in a kayak or canoe. This area is one of the top choices for your paddling fun and you will find plenty of adventure on both of these rivers.
A warm summer day in Fort McMurray, with the whitewater river fun is a great adventure. You will enjoy plenty of towering trees in the boreal forest, along with sparkling waterways. The experienced canoer or kayaker will find this area to provide a challenge, while the novice will enjoy the experience for sure.
Borealis Canoe Club Fort McMurray
If you're new to canoeing and you want to get involved, the Borealis Canoe Club is a great choice. They provide plenty of fun and promote all types of water fun. With organized social events and gatherings, you can enjoy this incredible water sport with others in the area.
Other rivers and lakes to enjoy canoeing and kayaking in the Wood Buffalo area include:
Athabasca River
Clearwater River
Crow Lake
Gregoire River
MacKay River
McClelland Lake
Poplar Creek Reservoir
Maqua Lake
All of these choices provide great trips with plenty of tours and areas for water fun. Whether you prefer to use your canoe to find the perfect fishing spot or you want to ride the rapids, you can find the fun you desire at any of these locations throughout the Wood Buffalo and Fort McMurray area.