5 Best Parks & Trails in Fort McMurray: Wood Buffalo Park & Birchwood Trails
Posted by Brett Campbell on Wednesday, October 26, 2022 at 9:00 AM
By Brett Campbell / October 26, 2022
Comment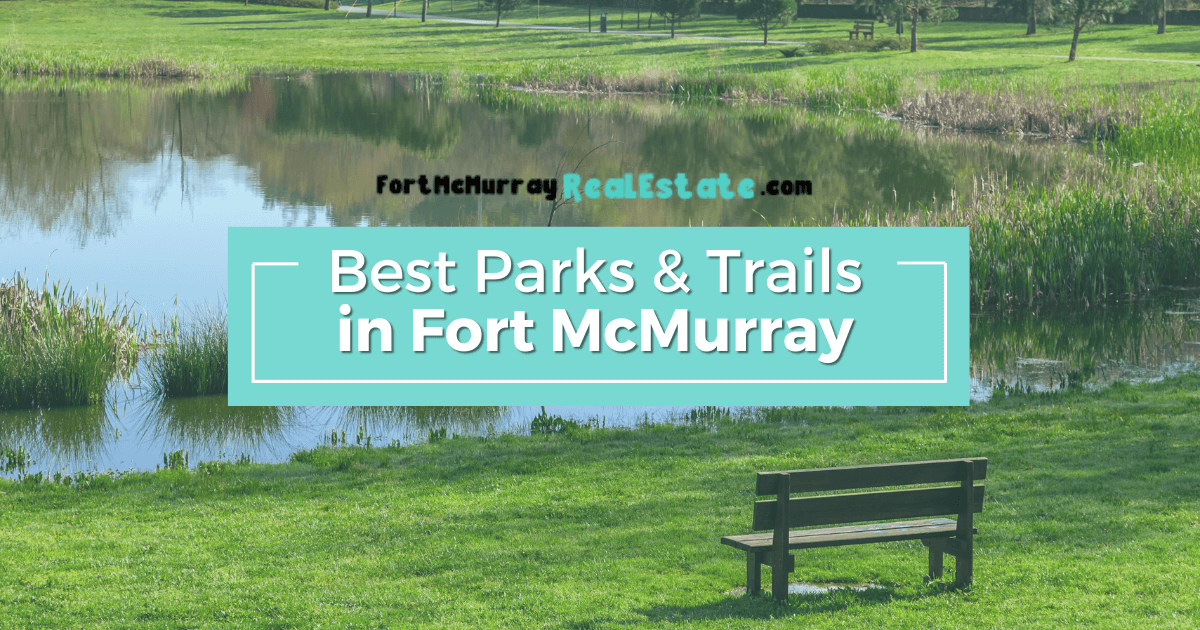 Fort McMurray, or simply "McMurray," as the locals call it, is a very outdoorsy community. Locals enjoy nearby trails and scenic views year-round, and the area parks are one of the things Fort McMurray is known for. Living in a neighbourhood with easy access to local parks makes enjoyment of the community that much greater for homeowners. It's easy to walk out the front door in many neighbourhoods and stroll on the local trail system or get some exercise and fresh air in a nearby green space. Here are five of the best parks that are easily accessed from Fort McMurray's homes for sale and the neighbourhoods nearest to them.
Wood Buffalo Park
Wood Buffalo Park is located off Wilson Drive and Woodward Lane in Fort McMurray. A small parking area is free to use at 187 Woodward Lane. Street parking is also allowed on a first-come, first-serve basis. A seasonal splash park is available right next to the parking lot. A large children's playground with a wood chip surface is one of the big draws of this park and is open year-round.
A paved walking path runs through the park, which is perfect for jogging or pushing a stroller. Wood Buffalo Park has a full-sized soccer field and a basketball court. Visitors can bring along a picnic lunch, as tables and benches are available for seating. The park also has a large grassy area for people to walk around, enjoy a book, or toss a frisbee.
This park is located adjacent to homes in Wood Buffalo on the western edge of Fort McMurray. There are primarily single-family bungalows and a few townhomes available for housing. Wood Buffalo Park is centrally located in the neighbourhood.
Birchwood Trails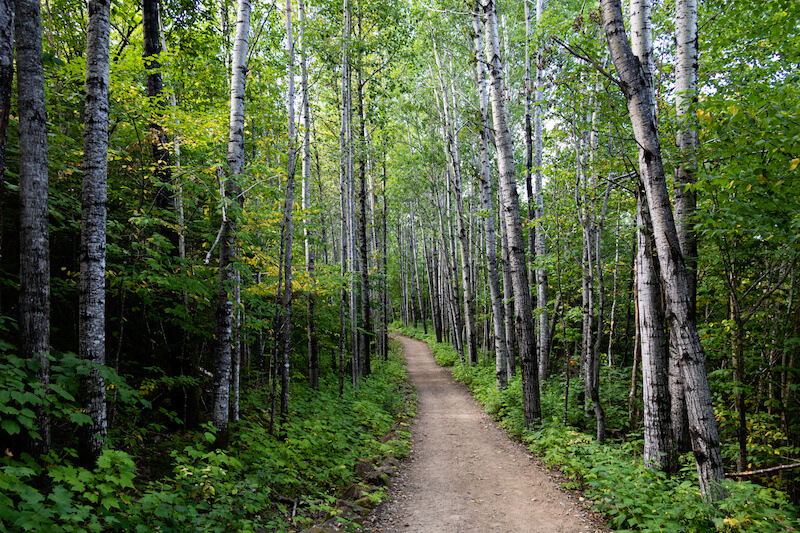 The Birchwood Trails are a sprawling network of outdoor trails that are, as the name suggests, lined by beautiful birch trees that are native to the area. The trails are primarily located between Thickwood Boulevard and Confederation Way in the north part of McMurray. The system has many types of trails to meet various outdoor activity needs, rounding out the many things to do in Fort McMurray.
There are some short, unpaved trails that are less than a kilometre in length. These are great for a short walk through the woods, where bridges cross local creeks and wildlife can sometimes be viewed. Longer paved trails provide opportunities for mountain bikers and long-distance runners. Some trails have steep slopes, providing more of a workout for residents, and numerous outdoor "green gyms" are located along one of the trails in the southern part of the network. Many trails are also groomed for cross-country skiing in the wintertime.
Birchwood Trails are located within three neighbourhoods in the north-central part of McMurray:
Single-family starter homes are the primary home type in these three neighbourhoods, but there are a limited number of townhomes and a few low-rise condo buildings. There are dozens of access points to the trail system from these neighbourhoods. A trail map provided by the city gives a sense of how many opportunities the trails offer in the area.
MacDonald Island Park
MacDonald Island Park is a massive sports complex that is the heart of the community in Fort McMurray. The park covers MacDonald Island and has a huge variety of things to see and do. The Suncore Community Leisure Center includes many of the following amenities and activities:
Two indoor ice arenas
Curling rink
Indoor aquatic center/pool
Indoor playground and kids' clubhouse
Fitness centre
Community art gallery
Indoor running track
Squash and racquetball courts
Shell Place offers multiple outdoor fields and arenas for soccer, baseball, and other sports, and numerous outdoor skating rinks are available during winter. The Miskanaw Golf Club is also on the island, providing 18 holes of championship golf during the summer months. There are also interpretive trails that can be walked on the island to learn more about the local flora, fauna, and history.
The community of Thickwood is closest to MacDonald Island Park. It has a nice mix of single-family homes, duplexes, townhomes, and a few condos.
Borealis Park
Borealis Park, a must-see for visitors and those moving to Fort McMurray, is located directly across the Snye River from McDonald Island Park. There are numerous indoor and outdoor activities here, and ample parking is available at the east end of Borealis Park, at the end of Morimoto Drive. There is also a smaller parking lot on the park's west end. A pond and a short walking trail are the main draws here.
There's no elevation change to worry about on the park's easy-rated trail, which encircles the pond. During the winter, the pond becomes an outdoor skating rink that's free for the public to use. Festive lights keep the rink well-lit and stay on nightly until 11 p.m., weather permitting. The Haxton Centre in the park is an indoor space where kids can enjoy entertainment after school or on Friday nights. They have movie nights, cooking classes, yoga, and other activities for local teens.
This park is situated at the north end of the city, near the condos in downtown Fort McMurray. Most of the housing in the downtown area consists of condominiums, although a few single-family homes are scattered throughout the neighbourhood. Some condos have spectacular water views of the Snye River and the Clearwater River.
Syncrude Athletic Park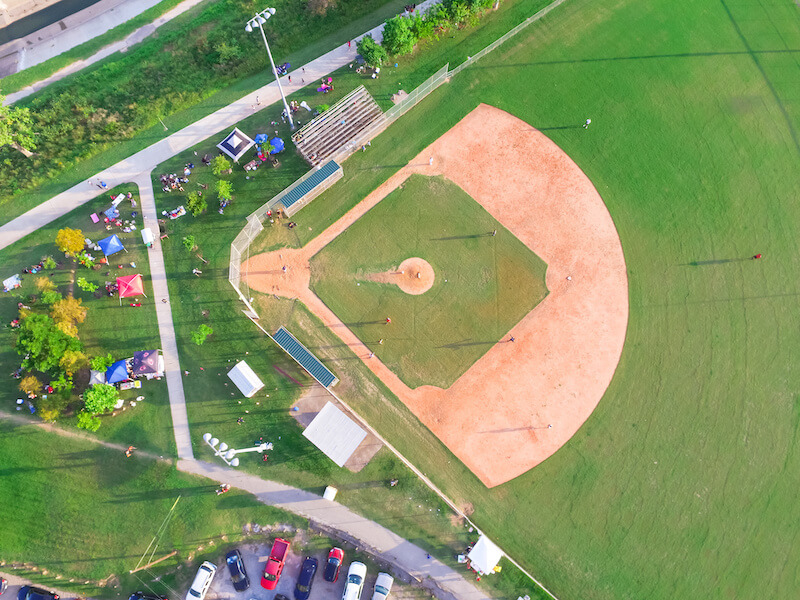 The Syncrude Athletic Park is an extensive community sports centre in the northwest part of Fort McMurray. The outdoor fields include a cricket pitch, six baseball/softball fields, four soccer fields, and an outdoor ice rink. All of the outdoor facilities also provide plenty of spectator seating. This park is home to many local and regional sports tournaments due to the ability to field multiple games at once.
The park includes a public playground for kids, a splash park, and one of the few skateboarding parks in town. The Syncrude Clubhouse is a 9,691-square-foot facility that provides additional amenities for visitors and athletic teams, including locker rooms, a kitchen, and an outdoor atrium with seating for 120 people. Concessions are available at many sporting events. An outdoor patio provides another space to relax and watch games from a distance. There's even an indoor multi-purpose space that can be reserved for events.
Syncrude Athletic Park is located in close proximity to homes in Timberlea. This part of town has a variety of bungalow-style single-family homes, duplexes, and condos. A few of the homes even fall within the category of luxury homes. Parents wanting easy access to the sports facilities at Syncrude Athletic Park would do well to explore this neighbourhood for a home.
Parks by Activities Offered
Here are lists of some of the best choices in the Wood Buffalo area for different activities.
Parks and Outdoor Areas for Sports
If you're looking for a park or area with basketball courts, ball diamonds, soccer fields, outdoor boarded rinks and other sports activities these are your best choices.
Father Beauregard & Centre Boreal School Sites - Abasand neighbourhood
Ecole Dickensfield & Sister Mary Phillips School - Dickinsfield
Reidel Street next to Boys & Girls Club - Downtown
Father Mercredi Community Field - Thickwood
Timberlea & St Anne School Sites - Timberlea
Wood Buffalo Park - Wood Buffalo
Gregoire Park - Gregoire neighbourhood
Ross Hennigar Park - Thickwood
Syncrude Athletic Park - Timberlea
J. Howard Pew Park - Waterways neighbourhood
St. Gabriel School/Hinge Bay - Thickwood
Waterways Community Park - Waterways
MacDonald Island Park - Downtown
Timberlea Community Park - Timberlea
Parks with a Boat Launch
Two parks in the Wood Buffalo area provide boat launches and they are:
Snye Park - Downtown
Sitskaw Park - Waterways
Skateboard Parks
Three parks in the Wood Buffalo area provide a place for skating fun. They include:
Simons & Lucas Park - Abasand
Casselman Lush Memorial Skate Park (Borealis Park) - Downtown
Syncrude Athletic Park - Timberlea
Spray Parks
When the warmer weather comes around it's nice to know where the spray parks are found. Here are the five choices:
Parks with Running Tracks and Area Trails
If you want to enjoy a running track or one of the area trails, the best choices are:
Timberlea Community Park - Timberlea (Also includes a Javelin Pitch)
Composite High School Site (Corless Field) - Downtown
Father Mercedi Community Field - Thickwood
Birchwood Trails - Fort McMurray
Enjoy the Great Outdoors in Fort McMurray, AB
There's a bounty of outdoor recreation in Fort McMurray, and residents make good use of local parks and trails year-round, whether they're going for nature hikes in the summer, cross-country skiing, or inline skating in the winter. Finding a home in the right neighbourhood for the activities one enjoys can be a significant quality-of-life enhancement while living here. There are other outdoor parks and activities to explore here, but the ones on this list are some of our favourites.