What to Expect During the Summer in Wood Buffalo
Posted by Brett Campbell on Thursday, June 26, 2014 at 6:22 PM
By Brett Campbell / June 26, 2014
Comment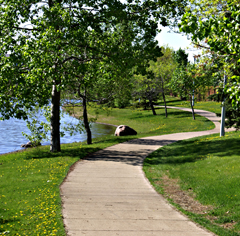 Wood Buffalo is a place filled with excitement and wonder. Those who visit often ponder about the unique experiences that this city has to offer. Only a short plane ride away from Fort McMurray, you can see what all the talk about is.
The streets are filled with children who are giggling with glee because of the silly balloon animals that they have just received. Street performers provide intriguing entertainment that cannot be seen anywhere else. There are many festivals to enjoy as well as good food to eat.
Wood Buffalo is the ultimate summertime experience. It is 3,400 square kilometres in size, and vast with oil sand landscape. There are tours available that will fill you with knowledge of the area's resources, and how it has played a large role in the region's success.
You will hear the roar of jet boats in the background, as they make their way through the river. These are the boats that will tour you around, and show you all that Wood Buffalo has to offer. With the many festivals going on during the summer, you will certainly hear the cheers from a satisfied crowd as the singers rock on through the night. There will be thousands of people who attend these festivals and concerts, in hopes of seeing the next superstar born on a stage in Wood Buffalo.
Life in Wood Buffalo is never dull in the summer. There is always something to attend. From street performers to rock performers you are sure to be entertained. Take a boat tour, and enjoy the beauty that surrounds this mystical place. There are islands that surround Wood Buffalo that are just waiting to be explored. Boredom will not be a part of your visit, as you are sure to find many entertaining events to partake in.