What is the Fort Chipewyan Winter Road?
Posted by Brett Campbell on Wednesday, January 1, 2014 at 1:05 PM
By Brett Campbell / January 1, 2014
Comment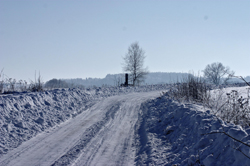 Some of the area found within Wood Buffalo area are only accessible by plane, boat and the winter road. The winter road to Fort Chipewyan provides a way to get to some of the hamlets found to the north of Fort McMurray. Some of these smaller communities are very important and this is the way to access them.
This road winds north from Fort McMurray for about 500 kilometres and crosses a large amount of beautiful northern landscape in Alberta. The boreal forest is found on both sides of the rod and it makes its way over frozen rivers and marches, as well. The icy Athabasca deltas are also found via this road at the edge of the Northwest Territories.
The Fort Chipewyan Winter Road passes through Fort Chipewyan, Fort Smith and Fort Fitzgerald. It provides access to all of these hamlets, which provide places for lunch and dinner along the way. You may find some local crafts, as well.
You can travel on the road by vehicle, if the vehicle has four-wheel drive and it makes for a fun day trip for the family. Plenty of northern wildlife is found along the way and the road offers a great chance to see broad-antlered moose, lynx, bobcat, deer and so many other animals.
Tour companies provide a unique experience throughout the area and allow for another way to experience this part of Alberta. the trapline experience tor will allow you to spend many days with experience trappers as you enjoy the northern trails and search for lynx, beaver and fox. This tour will teach you some of the old winter survival skills and provide a look into the fur trade.
Another popular tour is the ice fishing tour. This allows for fun throughout the area with both ice fishing ad snowmobile riding. This tour is perfect for both beginners and advanced outdoor adventurers.