What is Fort McMurray Known For?
Posted by Brett Campbell on Wednesday, December 25, 2013 at 6:49 AM
By Brett Campbell / December 25, 2013
Comment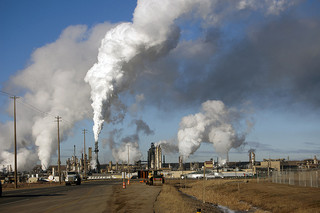 Fort McMurray is an urban area that was once called just McMurray. It's found in the Regional Municipality of Wood Buffalo and it used to be a city. However, it's designated at an urban service area, but many local refer to Fort McMurray as a city.
Fort McMurray is most known for the Athabasca Oil Sands, but there's more to this area than oil. It was originally settled by the Cree people, which came to the area looking for furs. Peter Pond was one of the first European explorers to come to the area and he explored the Athabasca River and the Clearwater River. However, he set up his trading posts near Lake Athabasca, which stayed open for about ten years.
The low oil prices caused this area to collapse in 1986, but it has since recovered and has been growing ever since. The population in 1989 was under 34,000. However as the oil prices increased in 2003 and have since, the population has nearly doubled.
This area of Alberta is referred to at the heart of Canadian oil production. The economy in the area relies on the oil sands, but is also supported by natural gas pipelines.
Boomtown
Fort McMurray is known as a boomtown and the housing prices tend to be higher than other Alberta areas because of this. However, the Alberta government has released more land for residential constructions, which has helped to lower prices in this area and helped the area grow into more than just an oil town.
Notable residents from the Fort McMurray rea include Scottie Upshall, Tony Sampson, Justin Progge, Colin Murphy Aaron Lines, Tantoo Cardial, Nils Edenloff and many others. Most of the famous residents from the area are professional hockey players, but a few are actors and actresses.
Keyano College is another part of the Fort McMurray area and something else it's known for. This is a publically funded college with many programs for training workers for the oil sands. They also provide a theatre and recital hall, which attracts many events and visitors every year.