What are the Most Popular Fort McMurray Summer Activities?
Posted by Brett Campbell on Friday, June 13, 2014 at 11:37 AM
By Brett Campbell / June 13, 2014
Comment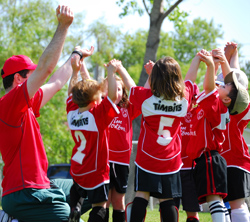 There is a lot of fun and sun waiting in the Fort McMurray community. Family friendly waterparks, fly-in fishing, and ATV riding are just a few of the many summertime activities to enjoy.
Spray Parks
Spray parks are a lot of fun if you have young children and want to enjoy a nice day while escaping the summer heat. In addition to the water works, your children can enjoy traditional playgrounds and hiking trails.
Network of Hiking, Biking, and ATV Trails
Fort McMurray has one of the most well-maintained network of trails for hikers, bikers, runners, walkers, and ATV riders. The network of trails provides the opportunity to enjoy nature, soak up the sun, and explore the true beauty of Fort McMurray.
Camping
Gregoire Lake Provincial Park is the best spot for camping near Fort McMurray. It features a beautiful beach, playground, hiking trails, picnic areas, and full-service camping grounds. This is the picture-perfect spot for anyone who wants to enjoy hiking, camping, and soaking up the sun on the beach.
Golfing
There are three magnificent golf courses near Fort McMurray for golfing enthusiasts to enjoy. All three golfing courses feature 18 holes. Quarry Ridge is the most welcoming to people who are new to the Fort McMurray community. Do not forget to take some time to enjoy the beautiful scenic views while you are golfing.
Fly-in Fishing
Drive-in and fly-in fishing lodges offer one-of-a-kind experiences that you are not going to find anywhere else. There are several fishing lodges including Lake Lodge and Gypsy Lake Lodge that operate year round in order to provide you with a unique and exciting fishing experience.
Whether you enjoy camping, beaches, walking, running, hiking, swimming, or ATV riding, you will find a summer activity for you and your family to enjoy from sunrise to sunset in Fort McMurray.