The Zombie Walk and Film Fear are Back!
Posted by Brett Campbell on Wednesday, October 2, 2013 at 12:41 PM
By Brett Campbell / October 2, 2013
Comment
October is a frightening, yet fun month and two great events from last year are back again. Both provided plenty of fun for the entire community.
Zombie Walk is Back to Raise Funds for the United Way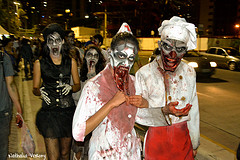 Last year, the Zombie walk raised $6,500 to help support the United Way and this year it's expected to grow in popularity. This 5.5 kilometre run or walk takes place through the Birchwood Trials where the zombies are found. As participants make their way through, they will have to dodge and run from these zombies.
Participants will wear flag football style belts with three flags and the zombies will stalk them and try to steal their flags. If a survivor loses all of the flags, they are eliminated. However, for an additional $20, survivors can refuel with three more flags at health stations along the way.
All the funds raised will benefit the United Way of Fort McMurray's Community Campaign. The Zombie Walk will be held at noon on October 5th and all participants should meet at Dough Barnes Cabin. A barbecue and prizes will be provided after the event.
The Third Year of the Film Fear Festival
With some of the best titles in the horror genre, the Film Fear Festival will provide plenty of entertainment for the community. This joint venture between YMM Podcast, Keyano Theatre and Arts Centre and the Fort McMurray Filmmakers Association with feature From Dusk till Dawn with many short films and local submissions included throughout the event.
Along with the films, the Judgmental Costume contest will be back with a grand prize of $1,000. Tickets for the event are offered through the Keyano Theatre box office for $13. You can gain a $5 discount with a donation to the Wood Buffalo Food Bank.