The TEDx Annual Conference will be Back in February of 2015
Posted by Brett Campbell on Thursday, November 20, 2014 at 11:35:53 AM
By Brett Campbell / November 20, 2014
Comment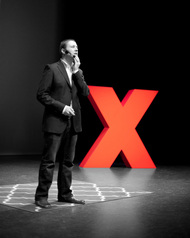 The Third Annual TEDxFortMcMurray Conference will be held on February 21st, 2015. This year the event will have a few changes from past years. The organizers have found some very unique speakers and are planning to make this event the best yet.
Unlike other organizing committees, those in charge of the third annual TEDxFortMcMurray Conference have decided to come up with a theme, and then choose their speakers. Usually, this is done the other way around with speakers chosen before the theme. Choosing the theme first allows the committee to have powerful individuals share their stories.
The theme for this year is Pioneering and the organizers are not putting any regulations on the speakers. It's up to those speaking to interpret what pioneering means. Doing this, allows the events to have a merging of talent and show a better balance between the 13 presenters.
Out of the 13 presenters, six come from all over Canada, while seven are local presenters. In years past, all of the presenters have been local to the Fort McMurray area. However, this year the event will provide plenty of new choices from all over Canada. Some of the presenters for this year include:
Dr. Teodor Grantcharov from Toronto
Rahim Sagan from Calgary
Joey Hundart from Edmonton
Sara Rawlings from Edmonton
Katlin Armstrong Local
Jay Barnard Local
Mardi Getty Local
And Others!
All of these speakers have a unique take on pioneering and will help make this TEDx event quite interesting.
Along with the new approach to getting speakers for the event, the ticketing process is also new. Now, tickets can be purchased online without the application process. This is being done in an effort to welcome everybody interested.
The event will be held at the Suncor Energy Centre for the Performing Arts and the cost is $75 per person. For more information, visit the website at, http://www.tedxfortmcmurray.com.