The Nightlife in Fort McMurray
Posted by Brett Campbell on Monday, July 15, 2013 at 1:31:49 PM
By Brett Campbell / July 15, 2013
Comment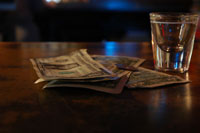 Fort McMurray isn't known for a crazy nightlife like some of the larger cities in the country. However, there are plenty of places for adults to enjoy. If you're looking for a great hangout, try one of these top choices.
Podollan Pub
One of the most popular bars in the area, Podollan Pub is found on Franklin Avenue. It's a great place for a hockey game or to hang out after work. The 120" screens make it perfect for sports and the menu provides plenty of choices for everybody. Podollan's has a great steak selection and hosts live music events regularly.
You won't find dancing or a DJ here every night, but they do host DJ events regularly. If you're looking for one of the best hangouts in Fort McMurray, Podollan Pub is the place to start.
Oil Can Tavern
Found on Franklin Avenue inside the Oil Sands Hotel, the Oil Can Tavern is a great place for country music. If you love to hit the dance floor and two-step, this is your type of bar. The friendly atmosphere is very welcoming and the music is great.
The Fort McMurray Newfoundlanders Club
A large crowd comes out on weekends for all kinds of music with bands starting early in the evening. The Newfoundlanders Club is found on Riedel Street and provides a high-energy environment.
Reckless
Plenty of drink specials make Reckless popular. The atmosphere is friendly and the entertainment is varied. You can find Reckless on Gregoire Drive
Club NV
A top 40s dance club, Club NV has attracted acts, such as Donnie Dumphy and Sean Paul. They're open Thursday, Friday and Saturday starting at 10pm and on Sundays starting at 11pm. The club is found on Hardin Street near the Peter Pond Shopping Centre.
Diggers Variety Club
Drink specials, pool tables and live music provide a great atmosphere for those hanging out at Diggers. Many top DJ's play all week long and the club is a great place for meeting new friends.