The Legacy Dodge Santa Claus Parade is Coming Soon!
Posted by Brett Campbell on Friday, November 8, 2013 at 1:50:57 PM
By Brett Campbell / November 8, 2013
Comment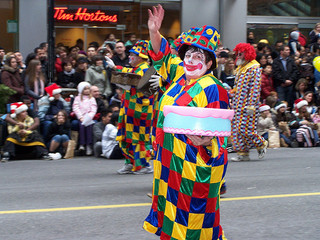 One of the best events of the winter season is the Legacy Dodge Santa Claus Parade and it will be held this year on the night of November 23rd. On this Saturday, the parade will take place and provide plenty of holiday spirit for those involved and in attendance.
This year's theme is "Lights of Christmas," and entries are still being accepted for the parade. If you're new to the area, you may already be experiencing the shock of the winter. The parade helps provides something magical throughout the area and helps to keep Christmas alive in the heart of residents.
As the nights become longer and the days shorter, events like this help to keep your spirit up. This parade is known as one of the best in the Wood Buffalo area and will light up the downtown area with floats, walking groups and so much more. Franklin Avenue will become a Christmas wonderland during the parade.
Participating
If you want to participate with a float, walking group or anything else, you may receive an award. Potential awards include:
Best in Parade
Youth Group
Commercial
Social/Service Organization
Judges Choice
People's Choice
You can register for the parade at, http://eventswoodbuffalo.com/home/portfolio/santa-claus-parade.
Due to safety concerns, nothing can be distributed from your float or walking group. However, gift bags will be provided and you can provide items for these bags by November 13th.
Information
The parade will begin with float staging between 12pm and 5pm on November 23rd. A mandatory orientation will be held on November 13th at 7pm and on November 17th at 3pm.
If you plan to attend the event, it will start at approximately 6:30pm on Saturday, November 23rd. The location for the event is Downtown Fort McMurray and there is no cost to enjoy the parade.