Summer Fun Found in the Fort
Posted by Brett Campbell on Thursday, July 11, 2013 at 12:46:46 PM
By Brett Campbell / July 11, 2013
Comment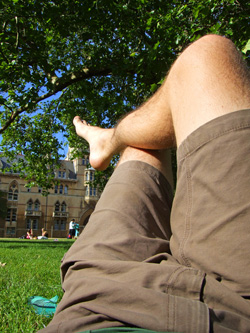 If you just arrived in Fort McMurray or you're getting ready to relocate to the area, it's a great time of the year for fun activities. Throughout the Wood Buffalo area, you will find all kinds of things to do. The long summer days of Alberta provide plenty of sunlight perfect for outdoor activities, such as golfing, hiking, canoeing, picnicking and more.
Three Golf Courses and More Athletic Activities
If you love to golf, you can choose from three different courses throughout the area. However, there's more to do than just golf. The Suncor Community Leisure Centre provides plenty of courts for athletics, along with aquatic facilities. Basketball, softball, tennis and many other athletics are found throughout the area during the summer.
Discover the History
The summer is a great time for history buffs because they can discover all kinds of history throughout the area. From Heritage Park to Marine Park, there's plenty of history throughout the area. Tour the historical buildings, museums railway cars and the shipyard.
A Weekend Escape
Relax and enjoy some of the luxuries in your own backyard at Sawridge Inn. This hotel is the perfect place to call home when you're not at home. The business-class rooms provide a luxurious feel and the honeymoon suites give any couple the atmosphere they need. You can stay in all weekend or you can enjoy the many activities close to the hotel.
Other Summer Activities
There's so much to do in Fort McMurray in the summer, it's hard to list it all. Other great activities include touring the Oil Sands, playing squash, attending an outdoor yoga class, shopping at the Peter Pond Shopping Centre, taking in a hockey game and so much more. Whether you want to get outside and enjoy nature or you'd rather spend time indoors, there's plenty to do in the area.