Snow and Ice Control Program Reviewed in Preparation for the Winter
Posted by Brett Campbell on Tuesday, September 23, 2014 at 4:42 PM
By Brett Campbell / September 23, 2014
Comment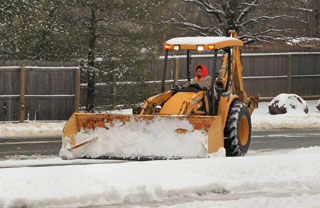 Winter is just around the corner and the Regional Municipality of Wood Buffalo is reviewing their snow and ice control program in preparation. They don't feel their current program is working and want to improve it for this year. Here are a few of the ideas the committee is considering to improve the program in their review for the upcoming winter season.
Their Review
The Regional Municipality of Wood Buffalo administration talked to council members recently about their review of Ice and Snow program. They plan to continue meeting in November for consultations.
They feel that currently their system is not working because people are barely getting out of their driveways or down the streets in the middle of winter. It's stressful for the community when they are already struggling during the middle of winter.
New Ideas
This review allows the committee to discuss new strategies to control snow and ice in residential areas. Currently, they use a blading process, which scrapes the snow and then it is hauled away, but the administration is suggesting switching to snow plows.  
The blading system costs $3 million and is used when the snow has reached 10cm which only happens once or twice a year, while the snow plow would be more efficient in residential areas.
What the Change Would Mean
The snow plow is the preference of residents, but it would actually push all of the snow onto driveways and lawns. While that's common in most areas, it's not what residents of this area are used to.
Instead, councillor Keith McGrath says they should try using a grader where they could alternate between the streets each year. People just want clean streets in the winter rather than trying to drive through a one-way neighbourhood due to excess snow.
Other Issues
There are Canada Post community boxes that will need to be ploughed around and, of course, they have to plow around cars parked on the street. They are considering having no street parking once per week to clean up the streets, as well.
Any changes made from the review won't actually take place until next winter season. The consultation meetings coming up will make sure to put a plan in place that the public wants.