Skating for Everybody
Posted by Brett Campbell on Friday, July 26, 2013 at 8:24:14 AM
By Brett Campbell / July 26, 2013
Comment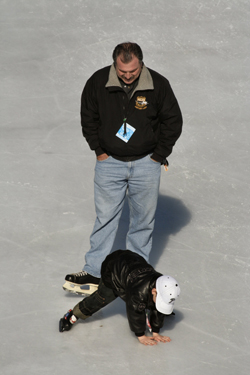 Many areas throughout Canada are known for ice skating, whether it's figure skating, hockey or just casual skating for fun. Moving to Fort McMurray provides the opportunity to learn how to skate and get involved in one of the programs at Noralta Skating Club.
The Noralta Skating Club is one of the best skate clubs in the area and provides plenty of great programs. Figure skating programs include:
Can Skate Program
Star Skate Tier 1 - A development level for those coming from the Can Skate Program.
Star Skate Tier 2 & 3 - This is a preliminary level for skaters.
Star Skate Tier 4 - Perfect for those ready to graduate from the primary level
Star Skate Tier 5 - The highest level of the program and considered the Gold Level.
Learn to Skate - Classes for preschoolers, Parent & Tot classes and many others for anybody ready to learn how to skate.
Adult Learn-to-Skate - Perfect for adults new to ice skating.
Along with the many programs, the club offers free skating times, competitions and other events. The star skate programs hold regular competitions and the entire family can enjoy free skate times. Adult open free sake sessions allow skaters to develop their skills in an open environment.
Other great places for ice skating in Fort McMurray include:
Frank Lacroix Arena - Open from September 15th to March 31st.
MacDonald Island Park - Includes two arenas, a leisure pond, min-ice and a curling rink.
The Goalie Garage - The perfect place for hockey goalies to train.
Suncor Community Leisure Centre
Finding an open skate time, program or hockey league throughout the area isn't difficult. Many of the arenas provide programs, public skate times and hockey leagues for all different ages. After relocating to Fort McMurray, ice skating will provide a great way to get to know others in the community.