Restaurant Spotlight: Extreme Pita
Posted by Brett Campbell on Wednesday, November 11, 2015 at 11:42 AM
By Brett Campbell / November 11, 2015
Comment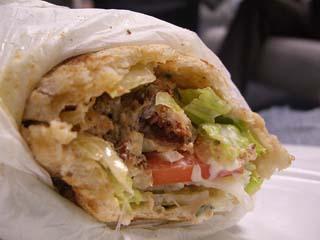 When you eat good, you feel good. That's the motto at Extreme Pita in Fort McMurray, where you can choose from a nearly endless selection of pitas. Whether your taste is contemporary or classic, you're sure to find something to satisfy both your taste buds and your hunger without sacrificing your diet.
What Are You Craving?
Extreme Pita's signature pitas offer a sampling of great combinations of ingredients mixed together for unique and full flavours. For a something with a kick, try the Buffalo pita; if you're in the mood for a more savoury taste, go with the Backyard BBQ Steak. Fans of a more classic pita, never fear- Extreme Pita offers great selections such as the Chicken Souvlaki and the Sriracha Falafel.
Healthier Alternatives to Your Favorites
A popular offering at Extreme Pita is the Flatbaked Pita. Order one of these for a lighter and tastier meal than your typical pizza. Extreme Pita also offers the option to turn any of their pitas into a salad- ask about the gluten-free salads too.
If you're looking for a healthy option to start your day, Extreme Pita serves breakfast pitas too! Get a small pita with two eggs or egg whites, and pick your choice of meat for that extra boost of protein. Breakfast pitas are served until 11am.
Purblendz Smoothies
For the ultimate on-the-go option, Extreme Pita in Fort McMurray also offers a selection of Purblendz all-natural smoothies. You'll get the freshest, best-tasting ingredients and you'll feel good about it.
Extreme Pita in Fort McMurray is open from 8am to 10pm Monday through Friday, and 9am to 9pm on the weekend. Be sure to visit for a twist on your favourite tastes. It's a great option for something a little different than your normal fast food joint.