Outdoor Skating Rinks in Fort McMurray
Posted by Brett Campbell on Monday, December 9, 2013 at 12:13:31 PM
By Brett Campbell / December 9, 2013
Comment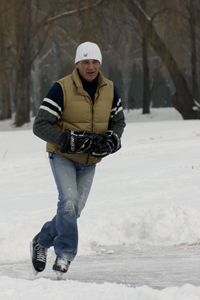 During the winter, the city of Fort McMurray sees a number of outdoor ice skating rinks pop up all over the city. Many of these rinks will open, weather permitting in mid-December. As long as the ice is thick enough and the weather cooperates, residents can enjoy skating outside on one of many rinks.
Boarded Rinks
The boarded rinks provide a place for hockey, figure skating and more. These rinks are maintained by the city and will open as soon as the weather is cold enough and the ice is thick enough. Most will stay open until spring.
Abasand - Found on Athabasca Avenue near Father Beauregard School
Gregoire - Found near Greely Road School
Thickwood - Found at the corner of Hinge Bay and Signal Road
Timberlea - Found near St. Anne's Schools on Brett Drive
Timberlea - Found at the Syncrude Athletic Park
Waterways - Located on Bulyea Avenue
Other boarded rinks are found throughout the rural areas around Fort McMurray including:
Anzac Boarded Rink
Conklin Boarded Rink
Janvier Boarded Rink
Saprea Creek Boarded Rink
Along with the many boarded rinks, other rinks may be found that are not maintained by the city.
Guidelines and Warning
During the winter, if it becomes warmer than normal, it's important to beware of thin ice. The rinks are provided for recreation and are unsupervised. If someone asks you to leave the ice, it's important to comply.
Warnings will be posted online and at the different locations when the ice is not thick enough for skating. When the ice is thick enough for skating, the rinks are open from dawn till dusk.
It's nearly that time of year and the rinks will be opening very soon. If you love ice skating, now is the time to get your skates ready for the season.