Neighbourhood Spotlight: Timberlea
Posted by Brett Campbell on Thursday, October 10, 2013 at 1:52 PM
By Brett Campbell / October 10, 2013
Comment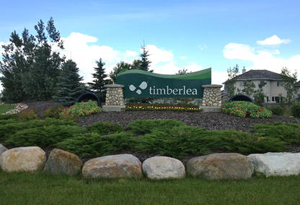 Found in the largest residential section of Wood Buffalo and Fort McMurray, Timberlea is a very popular place to live. This beautiful neighbourhood provides many ponds, plenty of open space and a variety of housing options. If you're thinking of relocating to the Fort McMurray area, Timberlea should be high on your list.
Shopping is found in the downtown section of the city, along with plenty of restaurants. This part of Fort McMurray is located just minutes from the neighbourhood. MacDonald Island provides plenty of great recreation opportunities and the main highway runs close to Timberlea. This provides easy access to the entire area including the regional airport and the industrial park.
Homes average around $739,000 in this neighbourhood with the lowest prices around $350K and the highest close to $1.2 million. Many homes are found here including multi-family homes and single-family homes. This fast growing neighbourhood provides a little bit of everything and fits perfectly with most families moving to the area.
The area started as a Structure Plan and has grown into a massive community with plenty to offer. It continues to grow each month and many new subdivisions providing a great place to live. Whether you're moving because of work or just because you want to start a new life here, there's a great house waiting in the Timberlea area.
Most of the homes come with large yards and garages. Some are much large and provide many luxuries, while others are a bit smaller, but still provide plenty of square footage.
If you enjoy the outdoors and you want to gain access to everything necessary in the Wood Buffalo area, you can't choose a better neighbourhood. The Athabasca River flows through this area, which provides plenty of nature, along with the parks and open spaces. Outdoor activities are found all throughout For McMurray and Timberlea is one of the better areas for just about everything you could imagine.