Neighbourhood Spotlight: Saprae Creek
Posted by Brett Campbell on Friday, December 20, 2013 at 9:03 AM
By Brett Campbell / December 20, 2013
Comment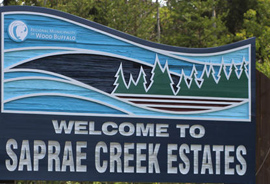 A smaller neighbourhood found in Wood Buffalo, Saprae Creek is home to nearly 1,000 residents. This community is found off highway 69 and highway 63, about 25 kilometres south of Fort McMurray.
Saprae Creek gets its name from the creek that runs to the south of the area. Clearwater River makes up the northern border, as well.
The neighbourhood was established in 1987 and is known as a forested acreage hamlet. It's a bedroom community of Fort McMurray and home to Vista Ridge, which is one of the most popular winter recreation facilities. Vista Ridge provides downhill tubing, skiing and snowboarding.
Vista Ridge is accessible from Spruce Valley Drive, which is the main road in Saprae Creek. It's found just to the north and residents enjoy easy access to five different ski slopes, plenty of rental equipment, cabins, campsites and so much more.
In the summer months, Vista Ridge provides plenty of recreation with hiking, fishing and camping available.
Dining and Shopping
Saprae Creek is near the airport centre, which provides many restaurants and hotels. Along with the airport centre, many other good dining options and shopping choices are found nearby.
The close location to Fort McMurray provides easy access to some of the best shopping, dining and entertainment in the region. Many of the top businesses are found along Highway 63, which leads into Fort McMurray.
The neighbourhood is also close to public schools, Keyano College and a library.
Real Estate
This isn't the most affordable neighbourhood in the Wood Buffalo area. The average home in Saprae Creek goes for over $1.3 million and can go as high as $1.8 million. The homes are very large and provide plenty of luxuries for families moving to the Fort McMurray area.
Overall, this is one of the nicest bedroom communities of Fort McMurray. The location provides easy access to all the necessary amenities and the homes here are magnificent.