Neighbourhood Spotlight: Anzac
Posted by Brett Campbell on Tuesday, January 7, 2014 at 12:27 PM
By Brett Campbell / January 7, 2014
Comment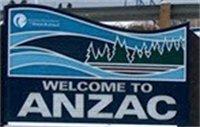 Anzac is a growing community with over 50 acres of undeveloped space. This space will be developed soon and those living in this area will see an influx of new neighbours. Many of the current lots will become single-family homes and a portion of the undeveloped space will also be used for a multi-family development.
Current homes in the Anzac range in price from about $260,000 to around $900,000. The average home in this area sells for over $550,000. Most home have at least two bedrooms. The majority of the homes found here are less than five years old.
Where is the Hamlet of Anzac?
This hamlet is located on the western shore of Willow Lake. IT's found in the southern part of the Wood Buffalo Regional Municipality. The close proximity to Gregoire Lake Provincial Park makes this a desirable place to live.
Anzac is found about 45 kilometres to the southeast of Fort McMurray. Alberta Highway 881 and 63 provide access to the city from this hamlet.  These main roads make it very easy to get to the amenities of the city.
The hamlet of Anzac was originally established in 1917. It was used as a place to stop on the Alberta Great Waterways Railway Line. The name comes from the New Zealand Army Corps that used the area during World War I.
Currently, the area is home to 785 residents and served by a volunteer fire department, many outdoor creational facilities, a community meeting hall and the Anzac Community School.
This area is expected to grow by a few hundred over the next couple of years. With the available land for development, this hamlet may see a population over 1,000 residents very soon. It's a smaller community with a good location for those looking to live near the Fort McMurray area and near the lake.