January will Bring the Blue Rodeo Back to Fort McMurray
Posted by Brett Campbell on Monday, December 30, 2013 at 10:29 AM
By Brett Campbell / December 30, 2013
Comment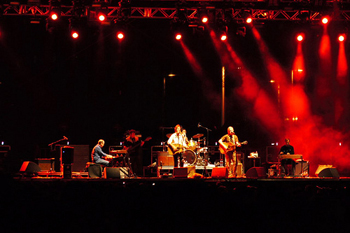 Music lovers will enjoy the Blue Rodeo's Jim Cuddy coming back to the Fort McMurray area in January. This will kick off the Our Nature Tour and will include Cuddy's oldest son Devin. The style of music is a blend of classic country and blues with many inspiring songs.
Cuddy played a show in October at MacIsland and it drew a huge crowd. Jim said his son is far better than he ever was at that age and the Devin Cuddy Band puts on a really great show.
The show in October didn't go off without a few issues, but this gave the band the opportunity to make a few adjustments before their big tour. One of those adjustments was going from stage monitors to in-hear monitors, which makes a difference for the band members.
During Canada Day in 2013, the band found its turning point with the new system and things just clicked. They found their groove and the way they really like to perform and now they put on a much better show than they did before.
Along with the performance coming up in January, the band will be pre-releasing their album Sing For Your Supper. This album is inspired by Kate Boothman, a friend of the band. She cooked for the band while they were recording the album In Our Nature. They actually took some of her recipes and created a cookbook of them to commemorate the In Our Nature sessions.
Sing For Your Supper can be pre-ordered at bluerodeo.com now. This album is different because they added Colin Cripps to the music with his guitar and there's a bit more of an acoustic sound to it.
The show will be held in Fort McMurray on January 16th and tickets are on sale now. It's expected to sell out, so get your tickets at MacIsland before they're gone.