Introducing the Beacon Hill Neighbourhood in Fort McMurray
Posted by Brett Campbell on Wednesday, October 16, 2013 at 8:24 AM
By Brett Campbell / October 16, 2013
Comment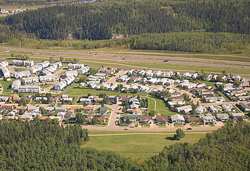 Beacon Hill is found in the southwest part of Fort McMurray and provides some of the nicest homes in the area. This community provides plenty of access to the entire Wood Buffalo region through Highway 63. If you're considering moving to the Fort McMurray area, this is a neighbourhood that should be at the top of your list.
Many quiet cul-de-sacs are found throughout the area with single and multi-family homes. The average home sells for over $675,000, but many homes are affordable throughout this area.
This area is served by many different schools including Beacon Hill School, Fort McMurray Composite High School, Ecole Boreal, Dr. KA Clark School and Father Beauregard School. These are all very good schools making this an excellent area for families.
Beacon Hill Stores and More
Many grocery stores make it easy to get the things you need. Stores, such as Save On Foods, Sobeys and the Real Canadian Superstore are all found near Beacon Hill. Along with these great stores, you can dine out at Jomaa's Pizza & Chicken or one of many other restaurants nearby. Other stores in the area include:
Tim Hortons
The Abasand Mall
River City Centre
River Point Shops
Shoppers Drug Mart
Safeway Pharmacy
Coles
The Missing Peace
Fort McMurray Home Hardware Building Centre
And More!
Recreation is found at MacDonald Island Park and many other things to do are not far from the Beacon Hill area.
Many fitness centers are found throughout the area including the Keyano Syncrude Sports & Wellness Centre and King's Fitness. If you're worried about finding a new neighbourhood pub, Brewbakers Pub and Tavern On Main are great choices. Other pub choices include Delaney's Irish Pub and Podollan Pub not far from the neighbourhood.
Moving is stressful, but when you choose the right neighbourhood it's much easier. Beacon Hill is a great choice in the Fort McMurray area for families relocating from another city.