Fun and Education for Your Children at The Hub
Posted by Brett Campbell on Monday, September 9, 2013 at 4:08 PM
By Brett Campbell / September 9, 2013
Comment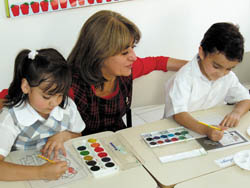 The Hub is a place for children to enjoy fun and learning in Wood Buffalo. This is a non-profit organization providing developmental programs for children from newborn to six years of age. If you have young children, getting them started on the right track is important.
With two locations in the Fort McMurray area and The Hub on Wheels Program, it's easy for The Hug to help you with your children. Many programs are provided throughout the year with the goal of providing a comfortable environment for children to play and develop new skills. Programs include:
Art & Sensory
Baby & Me
Bend & Bond
Cooking in Canada
Fun with Literacy
Get up & Go
I Can Do It
Little Chef
Munchkin Art
Stay & Play
Storytime
And More!
There's a program perfect for your little one at The Hub!
Hub Healthy Rules
The Hub is all about safety, cleanliness and fun. This is an environment safe for your children to play and some of the rules of The Hub include:
Inside shoes or socks are encourages
Children can be supervised by parents or caregivers at all times
No running or climbing on toys or furniture
Children must be symptom free for 24 hours before visiting The Hub
Taking turns is necessary
Sharing toys while playing is a must
Toys must be put away
Food and drinks stay in the kitchen at all times
Many other rules are in place to ensure playfulness in a safe, clean, kind and peaceful environment.
Whether you come to one of the two locations or you need the help of the Hub on Wheels program, there's something perfect for your child. The Hub on Wheels program reaches out to those needing programs and services without the ability to get to one of the two locations. For more information about The Hub, visit their website at http://thehubfrc.ca.