Fort McMurray Real Estate Market Overview: January 2016
Posted by Brett Campbell on Monday, February 22, 2016 at 10:03:56 AM
By Brett Campbell / February 22, 2016
Comment
The Fort McMurray residential real estate market had a few surprises in store during the month of January.  Most significantly, there was a decrease in both the median and average number of days it took for single family homes to sell.  In December 2015, the median and average number of days it took for a house to sell was 95 and 175 respectively.  In January, these numbers plummeted to 72 and 104 days respectively.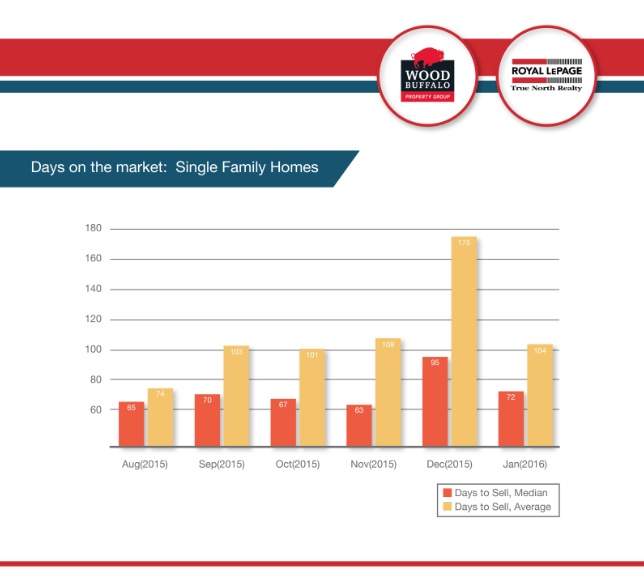 Despite a down market, there are still plenty of opportunities for successful transactions in the residential real estate market in Fort McMurray.  In January, one of our clients received an offer on their home during their first week on the market!  The home sold shortly thereafter.  This outcome wasn't just good luck.  Both the Homeowner and the Listing Agent worked to make it happen.
The Homeowner did everything right during the time their home was on the market.  They heeded the advice of their Agent, keeping the home clean and decluttered.  This helped to highlight all of the home's best qualities and really impressed potential Buyers during each showing.  The Homeowner also made sure they accommodated showing requests so that every interested Buyer was able to have a tour.
The Agent worked hard to get this property sold for the Homeowner.  The property was priced right which helped to attract Buyers.  The Agent also used Wood Buffalo Property Group's proven marketing system to ensure the property had maximum exposure online via social media, 3D Matterport marketing, and Google. 
Beyond this, Wood Buffalo Property Group also has an extensive network of qualified Buyers waiting to tour properties.  Two of the Agents, TJ Campbell and Brett Campbell, grew up in Fort McMurray and have in-depth knowledge of the area and its unique market challenges. 
It is possible to successfully sell your home in a down market.  If you are thinking of selling, contact us for a free home evaluation and to learn more about our proven marketing system.  
*Disclosure* The opinions expressed within this site and  the interpretations of the data is the opinion of the REALTOR® posting the information and may not reflect the views of the board, brokerage or its members.