Fort McMurray Real Estate Market Overview: April 2016
Posted by Brett Campbell on Monday, May 2, 2016 at 2:59:03 PM
By Brett Campbell / May 2, 2016
Comment
April continued to see activity in the residential real estate market, proving that there are still opportunities for successful transactions for both buyers and sellers.  There were 54 sales in April, which was the highest number of sales for any month this year. 
The condominium market in Fort McMurray has been active these past few months.  There are several reasons for this:
There is a healthy inventory of units on the market.
There are units available across the city, including some of the most popular neighborhoods.
There are affordable units available which has opened up the market for first-time buyers and investors. 
In April, there were 237 condominiums on the market.  Inventory volume for condominiums has been fairly steady over the past few months.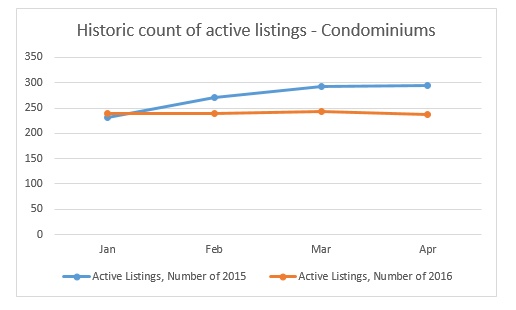 Condominiums in Fort McMurray are one of the most affordable housing options.  This has opened up the residential real estate market to first-time buyers, renters, and investors.  In April, the median sale price for condominiums was $286,500.  This is down $82,500 when compared to the same period last year.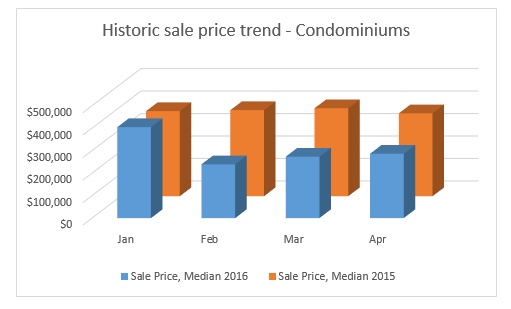 The condominium market has proved to be a great opportunity for buyers to negotiate on the listing price.  As has been the trend for the past three months, the sale price of condominiums across the city was lower than the list price.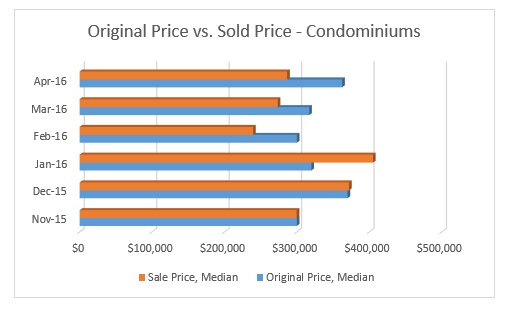 We had the pleasure of helping several clients buy and sell condominiums recently.  In April, we represented two buyers who purchased downtown condominium units at 115 Denholm Gate.  Wood Buffalo Property Group was able to help these buyers purchase their units at the lowest recorded sale price in the building!  It was the perfect example of how our current market still holds plenty of opportunities, especially for buyers.  We are always working hard to help our clients get the best possible deal available in the market.    
Condominiums will continue to be an excellent investment, even during a slower real estate market.  If you have been considering buying or selling a condo, contact Wood Buffalo Property Group to find out how we can help!
*Disclosure* The opinions expressed within this site and the interpretations of the data are the opinions of the REALTOR® posting the information and may not reflect the views of the board, brokerage or its members.