Eating Out In Fort McMurray
Posted by Brett Campbell on Friday, July 12, 2013 at 1:05:29 PM
By Brett Campbell / July 12, 2013
Comment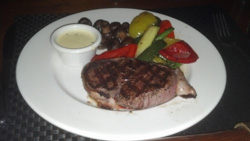 Fort McMurray is full of great restaurants and if you're new to the area, it's important to know where to go. Whether you need to escape the kids for a date night or you're searching for the perfect place for family dining, you can find something to fit your needs. Here are the top eateries in the area.
Fugi Japanese Food
With some of the best sushi and Japanese food in town, Fugi's is a great place for a date. The sashimi is excellent and the service here is known to be fantastic.
The Keg Steakhouse & Bar
Known as one of the most expensive restaurants in the area, The Keg Steakhouse & Bar is the perfect choice for a nice date. The steaks are well worth the price and they have some of the best prime rib you'll find in the area.
Spring Moon
A great place for sushi and Asian cuisine, Spring Moon provides plenty of good menu options. This restaurant is open daily for lunch and dinner.
Mitchell's
The place for a sandwich and a smoothie, Mitchell's provides a variety of soups, salads, coffees, desserts and more. If you're looking for a casual experience, this is one of the top choices in the area.
Pizza Experts
Open for lunch, dinner and late night eating, Pizza Experts provides one of the best pies in town.
Longshots Sports Bar
A casual spot for a late night date or a happy hour meeting, Longshots is one of the best bars in the area. Catch a game or just come in for some decent pub food.
Montana's Cookhouse
One of the better choices in Fort McMurray for the family, Montana's provides steaks and southwestern cuisine.
All of these restaurants are a good choice throughout Fort McMurray. Whether you're looking for something casual or a more expensive choice for a nice date, there's something here for everybody.