Dressing for the Cold Winter Season
Posted by Brett Campbell on Wednesday, November 27, 2013 at 10:20:15 AM
By Brett Campbell / November 27, 2013
Comment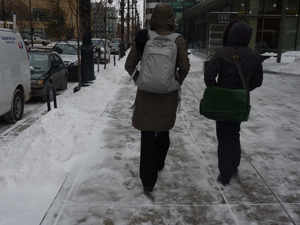 If you're new to the Fort McMurray area and you have yet to experience a winter here, it's necessary to understand what to expect. This area becomes fun, snowy paradise with all types of great winter activities both indoor and outdoor. However, temperatures will dip well below freezing and you need to be prepared.
Layers
Anybody that has ever experienced a very cold winter knows dressing in layers is important. You want to start with a layer that is very thin, such as nylon or polyester. Don't start with cotton. The second layer can also be polyester or you can choose fleece. It should be a bit more restrictive and heavier than the first layer. Your final layer should include something wind and water resistant, such as Gore-Tex.
Loose Clothing is Better
You can dress for winter without giving up a ton of range of motion by keeping your final layer of clothing loose.
Don't Wear Too Much
Layers are important, but if you put on too many layers or you don't use the right materials, you will often sweat. This can actually make you colder, rather than warmer. Cotton is not recommended for this reason, especially near the skin.
Stay Dry and Warm
Your feet and hand need to stay dry and warm, especially. However, it's a good idea to keep your entire body dry and warm. Quality socks and gloves will help and making sure you have water resistant shoes or boots is a good idea, as well.
Accessories Make all the Difference
Choosing the right accessories can make a huge difference. Make sure you have hats that cover your ears and face, gloves, scarves and sunglasses. All of these are essential accessories during the winter
You may need to make a trip to the closest sporting goods or winter goods store and stock up on the right clothing before the winter arrives.