Does the MacDonald Island Community Art Gallery Offer any Programs?
Posted by Brett Campbell on Wednesday, July 30, 2014 at 12:09:33 PM
By Brett Campbell / July 30, 2014
Comment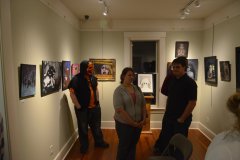 The MacDonald Island Park is the largest recreational community in Canada. Located at 1 C.A. Knight Way in Fort McMurray, AB T9H 5Cs, the park is open every day of the week. Many people seek annual memberships in order to take advantage of all of the wonderful events and activities hosted at the park.
One treasure within the park is the MacDonald Island Community Art Gallery, a space where local artists specializing in visual arts can practice their art at no cost. There are so many programs offered at the MacDonald Island Community Art Gallery and they range to cover different age groups, from child to youth to adult programs.
Programs for Children
Children can participate in "Painting in Abstract," a class that allows kids to really explore art through different mediums in order to learn self-expression.  Another children's program offered is "Spring Thing – Drawing for Kids." This program is to allow kids to learn about different elements of spring through drawing, including leaves and forest drawings.
 For a more generalized program, children can try "Drawing and Painting Animals" in which they will cover not only drawing and painting, but also collage. They will do this, of course, with animals of all kinds.
Programs for Youth
Youth options include "Still Life for Youth" and "Painting Nature for Youth." "Still Life for Youth" is a program for those in the youth age group to learn about objects, or still life art, by examining colour, light, shape, and texture. "Painting Nature for Youth" is just as the title explains, an opportunity for youth learners to learn paint techniques while discovering nature-inspired work.  
Finally, all levels of experience are invited to try "Intro to the Art of the Portrait." This program teaches using charcoal and acrylic paint to educate on the topics of proportion, composition, and basic structure. They offer both live models to practice their art, as well was imagery.
The art programs offered at the MacDonald Island Community Art Gallery are numerous and all vary so greatly. This allows for great opportunity for all age groups to find something that suits them, even as they enter different age groups. These programs truly offer a unique learning experience.