Discovering Downtown Fort McMurray
Posted by Brett Campbell on Monday, January 20, 2014 at 10:32:15 AM
By Brett Campbell / January 20, 2014
Comment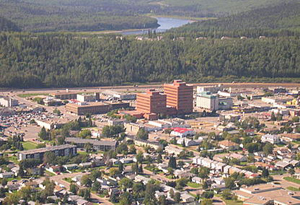 Downtown Fort McMurray is better known as the Lower Townsite. In 1995, Fort McMurray merged with Wood Buffalo and they are now known as a Regional Municipality. The population is 104,000 and the neighbourhood is found south of MacDonald Island.
Homes in this part of the area have an average price of $1.05 million with the lowest home prices around $330,000. The downtown area is very busy and Franklin Avenue is the main road running through the city. Larger stores and plenty of restaurants are found throughout the downtown Fort McMurray area.
Historic Centre of the Community
The Lower Townsite area is known as the place for history. It's found near the Clearwater River Valley and provides a public library, court house, RCMP detachment and the municipal offices. About 12,000 people live in this part of Fort McMurray and most of the homes are single-family homes. Some condominium and apartment buildings are also found throughout.
Amenities found downtown include the Urban Park Centre, which provides plenty of recreation to the area. Elementary and high schools are also found throughout the area and it's not far from the MacDonald Island Recreational Facility.
Redevelopment Plan
The Lower Townsite Area Redevelopment Plan is currently being implements. This plan comes with a goal of restoring the character to the neighbourhood and making sure it remains the social and cultural centre of the community. The hope is to also reconnect this part of Fort McMurray with the riverfront park system.
Shopping
Living in this area provides plenty of shopping options including the Peter Pond Shopping Mall. This is the two-level mall and provides a business district at the centre of the city. Three other malls are found close to the Lower Townsite area, as well.
Along with the shopping, residents in this area enjoy access to Snye Park, the Westwood Family YMCA, a semi-private golf course, other parks and more. Many of these areas are located within walking distance of the area.