Deck Installation ROI: What You Need to Know About Building a Deck
Posted by Brett Campbell on Thursday, August 8, 2019 at 9:11 AM
By Brett Campbell / August 8, 2019
Comment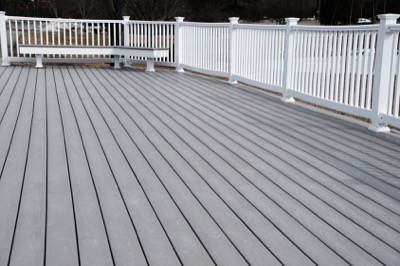 Before selling their home, homeowners often look for small ways to boost their home's value and make their property more appealing to buyers. One of the most popular ways to do this is by installing a deck. Many home buyers love spending time outside and entertaining in their back yard, and a deck can make that possible. If you're a homeowner looking for a high ROI project that can help your home sell for more money, here's what you need to know.
What Is the ROI of Deck Installation
The ROI of a deck installation varies between 70 and 80 percent, depending on the materials used to build the deck, how big the deck is, how much the deck installation cost and other factors. Homeowners who want to make as much money as possible can increase ROI by making smart choices throughout the deck design and installation process.
How Can You Maximize ROI of a Deck?
There are many things that home sellers can do to maximize the ROI of their deck installation. Here's what you need to know:
Keep Costs Down
Generally speaking, buyers will not pay extra for fancy features included on a remodel or addition. The more the deck costs, the lower the ROI percentage is likely to be. Buyers seeking high ROI can do so by working with their contractor to keep costs reasonable.
Install the Deck Several Months Before Selling
Deck installation can be a disruptive process. Sometimes landscaping must be pulled up, and heavy pieces of equipment can destroy grass. It's best to give the lawn time to recover before putting the home up for sale. This way, the deck and landscaping around the deck will look their best for the listing pictures.
Pressure Treated Lumber Vs. Composite Wood Decking
Composite decking is the latest, greatest material in deck construction. Composite decking is desirable because it's rot resistant, fade resistant, and never needs to be resealed or painted. However, composite decking is also significantly more expensive than the traditional pressure treated lumber. Buyers who want to maximize their ROI often turn to pressure treated lumber, to help control costs.
Pick the Right Contractor
Some home buyers find it tempting to cut corners when trying to install their deck. After all, keeping costs down can help improve ROI, right? Unfortunately, cutting corners by hiring the wrong professional can have detrimental or even devastating effects. Hiring a contractor who is untrained or who does not have the right credentials could result in improper deck construction. A deck that is not constructed to code could lower a home's value, by making it harder to sell.
Sellers hoping to hire a capable and competent professional can do so by:
Checking references
Interviewing different candidates in person
Comparing bids from several professionals
Remember that the best contractor is not always the cheapest contractor. A contractor who produces quality construction may need to charge slightly higher prices in order to pay their employees and buy good materials.
Work With a Real Estate Professional to Get Better Offers
If you're a Beacon Hill homeowner who would like to sell your home soon, there are many things you can do to maximize your home's value. Working with a real estate professional can help you identify the best ways to make money from the sale of your home.
Your real estate agent can make suggestions that can boost your property's value, and can negotiate with buyers until both parties have come to an agreement on cost. For more information about how you can get the most out of the sale of your home, contact a real estate agent today.