8 Best Neighbourhoods in Fort McMurray: Where to Live in 2023
Posted by Brett Campbell on Monday, March 28, 2022 at 5:20 AM
By Brett Campbell / March 28, 2022
Comment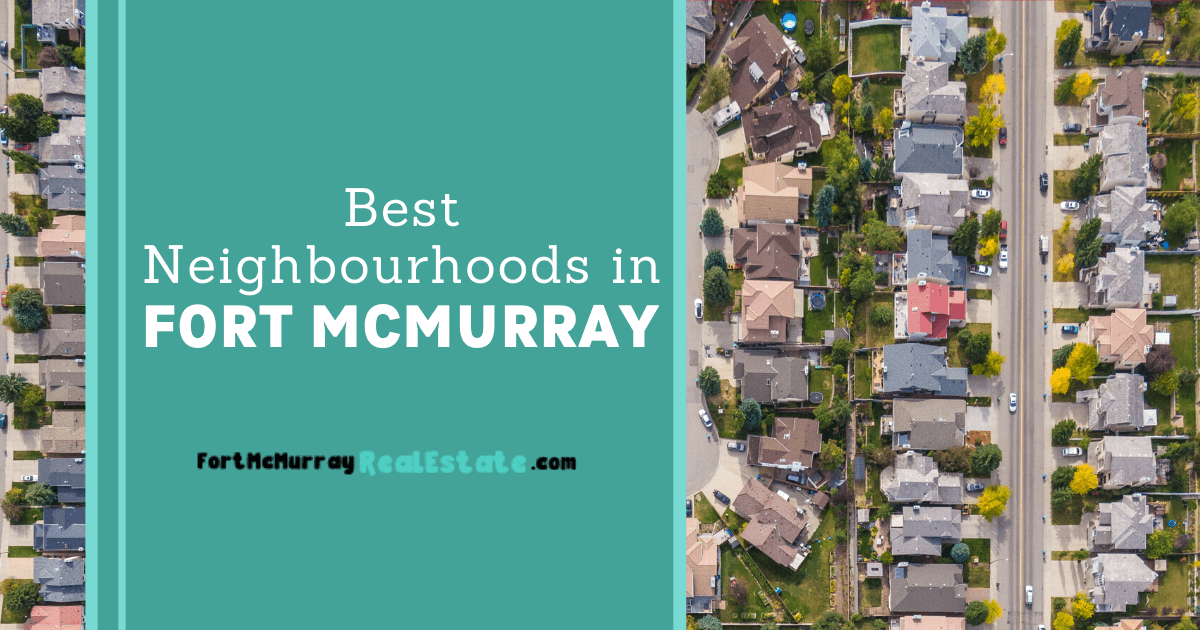 Located in the province of Alberta, Canada, Fort McMurray lies in the middle of the Athabasca oil sands and is surrounded by a boreal forest. While initially a city in its own right, Fort McMurray has since been redesignated as an urban service area after it was merged to form the Regional Municipality of Wood Buffalo in 1995.
The Fort McMurray real estate market contains many great neighbourhoods designed for the unique needs of all types of residents. Keep reading to discover the eight best neighbourhoods in Fort McMurray—your dream home might be waiting in one!
Beacon Hill
Beacon Hill Amenities
Oil Sands Discovery Center
Mary Brown's Chicken
Urban Kitchen Table
The Den
Found along Memorial Drive heading into Fort McMurray, the Beacon Hill community is a quiet getaway from the nearby downtown area. People moving to Fort McMurray will appreciate that Beacon Hill is only a short drive from prime commercial areas.
Beacon Hill homes for sale usually cost between $239,000 and $996,000. House sizes range between three bedrooms, two baths and six bedrooms, five baths. Home types in the area come in various styles, including modern contemporary and custom-built.
Beacon Hill eateries include Jomaa's Pizza & Chicken, serving a variety of lunch and walk-in specials and Table 63 at the Quality Hotel, offering a hot buffet breakfast and delicious homestyle cooking. Beacon Hill locals also enjoy convenient access to the Fort McMurray International Airport.
Other Beacon Hill area hotspots and amenities include Thrifty Dutch Girl, a woman's thrift boutique shop; Brewskis Pub, founded in 2011 and serving quick bites and more elaborate meals; and Beacon Hill Park, a park with sports facilities, a playground, and picnic area that is open year-round.
Dickinsfield
Dickinsfield Amenities
Wood Buffalo National Park
Fort McMurray Golf Club
Short Change Pub
Centerfire Place
Like many communities in Fort McMurray, the neighbourhood of Dickinsfield is known for its natural beauty and access to outdoor recreational activities. These activities include hiking, biking, and skiing at the Birchwood Trails, a series of beautiful, wooded trails surrounding the region.
When it comes to housing, the Dickinsfield homes for sale range in price from $350,000 to $800,000. Available home sizes include three bedrooms and three baths, up to five bedrooms and three baths. Housing types consist mainly of older single-family homes, new construction homes, and townhomes.
Area hotspots include Milano's Pizza & Grill, a typical pizza joint with yummy Italian food; Sweet Meats Sandwich Bar, serving freshly made sandwiches, wraps, and other items; and the Blue Diamond Restaurant, offering a variety of favourite Chinese dishes.
The Black Horse Pub is another popular location near the Dickinsfield community, serving the surrounding region since 1994. Ruth's Sweets and Treats is found to the north of the Dickinsfield community, while OBB Gifts lies to the south and sells a range of gift baskets.
Timberlea
Timberlea Amenities
Syncrude Timberlea Athletic Park
Firebag Coffee Company
Buster's Pizza & Donair
Cedars Shawarma and Kabab
One of the most populous communities in the area, the community of Timberlea is located in the northwest corner of Fort McMurray. Timberlea real estate comprises 18 separate subdivisions and offers residents access to area parks and outdoor spaces, many with walking trails for active residents.
Homes in Timberlea cost between $90,000 and $1.2 million. House sizes in Timberlea vary between two bedrooms, two baths to seven bedrooms, three baths. Residences in the area also come in a wide selection of home types, including townhomes, condos, and single-family homes.
Timberlea has many restaurants to choose from, including Prairie Donair, a family-owned and operated restaurant that offers authentically cooked meals; Pizza Plus, serving pizza, pasta, and sandwiches; and Mucho Burrito Fresh Mexican Grill, with fresh Mexican-inspired food.
There are also several bars and breweries in the Timberlea area, including the East Village Pub & Eatery, a local pub run by a mother and son team; The Canadian Brewhouse, a sports-centric brewery that also has a selection of pub favourites; and The Banquet, which offers food, drinks, and games.
Thickwood
Thickwood Amenities
Black Horse Pub
Paddy McSwiggins
Sweet Meats Sandwich Bar
OBB gifts
Home to Fort McMurray's minor league hockey club, the Oil Barons, Thickwood is surrounded by woodland and is found in the northwest part of the Fort McMurray area, south of the Timberlea community. The community of Thickwood has well-maintained green spaces throughout.
The homes for sale in Thickwood are comprised of various types, including bungalows, townhomes, and condos. Home prices in the area average between $128,000 and $965,000. Homes in Thickwood range in size from two bedrooms, two baths to seven bedrooms, four baths.
Thickwood has a selection of shopping locations, including Thickwood Shopping Plaza, with over 21 stores and eateries; Save-On-Foods, a grocery chain found across Canada; and The Meat Shoppe, a locally-owned butcher shop offering smoked sausages, jerky, and other meat products.
Other Thickwood hotspots include Wood Buffalo National Park, an over 27,000-square-mile National Park, making it Canada's most significant; the Fort McMurray Golf Club, found along the banks of the Athabasca River and offering a 27-hole golf course; and MacDonald Island Park, with many state-of-the-art facilities, including a golf club, pool, and other fun activities.
Local restaurants in the Thickwood area include Mary's Brown Chicken, offering a variety of chicken dishes; Blue Diamond Restaurant, serving juicy steaks, Chinese noodles, and more; and The Fish Place, a seafood restaurant with a variety of breakfast items to choose from.
Abasand
Abasand Amenities
Peter Pond Mall
The Keg Steakhouse & Bar
Eclipse
Borealis Park
The Abasand community sits atop a portion of the original Abasand Oil Sands property. The Abasand homes for sale are elevated above the rest of the surrounding area, offering beautiful views of Fort McMurray and the surrounding region. Located just minutes from the main highway, Abasand has many area trails and greenbelts.
Home prices in the Abasand area usually range between $150,000 and $699,000, with houses in the area a mixture of single-family homes, townhomes, and condominiums. Home sizes tend to range between three and four bedrooms.
Area restaurants are located to the east of the Abasand community and include Yoshi Japanese Restaurant, with a selection of different types of sushi, bento boxes, and other Asian favourites; Cedars Bakery & Restaurant, offering an expansive menu of kababs, shawarma, and baked goods; and Yasso's Greek Cuisine, a local Greek restaurant.
Local bars near the Abasand neighbourhood include Tavern on the Main and Bailey's Pub, which has karaoke and comedy nights. Nagaad's Boutique is an area retailer that sells clothing, accessories, and other items.
Downtown
Downtown Amenities
Tavern on the Main
MacDonald Island Park
Yoshi Japanese Restaurant
LAV War Memorial
Located between the Athabasca and Clearwater Rivers, Downtown Fort McMurray real estate offers comfort and convenience. The Downtown area serves as the central commercial hub for Fort McMurray, boasting restaurants, shops, and cultural locations for residents to enjoy.
Homes for sale in Downtown Fort McMurray usually cost between $249,000 and $799,000. House types include townhomes, condos, and custom-built homes, among others. Home sizes range between two bedrooms, three baths and six bedrooms, three baths.
Shopping locations in the Downtown area include the Peter Pond Mall, featuring a variety of stores, restaurants, and entertainment venues; The Source, a local game store selling games, systems, and other electronics; and Mark's, offering clothing in a variety of styles for men, women, and children.
In addition to shopping, Downtown also contains many restaurants, such Earls Kitchen & Bar, an upscale chain serving gourmet burgers, comfort food, and cocktails; Mitchell's Café, a sandwich shop offering a variety of sandwiches, expresso, and homemade baked goods; and Cora, a breakfast restaurant.
Residents can also visit the Fort McMurray Heritage Village, a collection of historical buildings where visitors can experience a part of Fort McMurray's past, and Borealis Park, a small area park with a 0.3-mile walking trail.
Gregoire
Gregoire Amenities
Brewskis Pub
McRay's Roadhouse Grill
Sitskaw Dog Park
Table 63
The Gregoire community is located to the south of Downtown Fort McMurray and sits alongside Memorial Drive, serving as the Industrial hub of Fort McMurray. The community is also the home of the Oil Sands Discovery Center, where residents can learn about the history, science, and technology of the oil sands the area is famous for.
Gregoire real estate prices range between $150,000 and $996,000. House sizes range from two bedrooms and one bath to six bedrooms and five baths. Homes in the area come in various types, including condominiums, modern contemporary, and custom-designed homes.
Local eateries near the Gregoire community include OJ's Steak and Pizza, with salads, pizza, and subs, among many other delicious menu items; the Urban Kitchen Table, located at the local Radisson Hotel & Suites; and Tim Hortons, a Canadian chain that sells coffee, baked goods, and other food items.
Other hotspots in Gregoire include The Den, a local sports bar that also has a pool, darts, and arcade games; Mary Brown's Chicken, which serves mouthwatering signature chicken dishes, and potato wedges; and Fort City Play World, an indoor playground with a variety of activities for children of all ages.
Eagle Ridge
Eagle Ridge Amenities
Birchwood Trails
Tim Hortons
The Banquet
East Village Pub & Eatery
One of the newest neighbourhoods in the Fort McMurray area is Eagle Ridge, bordered by the Birchwood Trails. Eagle Ridge is a combination of urban and residential living, offering a variety of stores, restaurants, and other locations for residents to enjoy.
Homes for sale in Eagle Ridge vary in price between a low of $420,000 and a high of $815,000. Housing types in Eagle Ridge include low-rise condos, townhouses, and luxury homes, among others. When it comes to size, homes are as tiny as two bedrooms, three baths and as large as seven bedrooms, four baths.
Area restaurants include The Rice Bowl, serving a variety of favourites; Eagle Ridge Eatery & Café, an all-day breakfast and brunch restaurant offering a variety of other menu items; and Streats Fort Mac Kitchen, a local taco restaurant with a variety of globally-inspired street food.
Other popular locations in the Eagle Ridge community include Eagle Ridge Pond, a local green space where residents can have a picnic, get some sun, and enjoy the outdoors; Landmark Cinemas, an eight-screen movie theatre; and the local Save-On-Foods store, selling a variety of everyday household grocery items.
Make Yourself at Home in Fort McMurray's Best Neighbourhoods
Despite its distinction as an urban service center that is a part of the larger municipality of Wood Buffalo, Fort McMurray is still thriving city in its own right.
The robust energy industry provides many jobs in Fort McMurray. This has led to a boom in the population as people move to the area searching for jobs in the oil industry — and many of them choose Fort McMurray's neighbourhoods as their home. In addition to employment opportunities, the low cost of living in Fort McMurray and the numerous desirable neighbourhoods make this city one of the most popular in Alberta.