Are there any Campgrounds in Wood Buffalo?
Posted by Brett Campbell on Thursday, May 1, 2014 at 3:37 PM
By Brett Campbell / May 1, 2014
Comment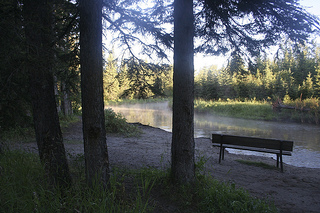 The Regional Municipality of Wood Buffalo is full of great recreation areas. Some of these areas provide a place for camping. This area provides many outdoor activities and the campgrounds are full of amenities. Here's a list of the campgrounds throughout the area.
Engstrom Lake Provincial Recreation Area
Once this campground opens again, you can enjoy all kinds of fun throughout the area. During the winter, you can still enjoy ice fishing here. Engstrom Lake Provincial Recreation Area provides:
Canoeing
Kayaking
Ice Fishing
Power Boating
Hiking
Fishing
And More!
Gregoire Lake Provincial Park
Maybe the best park for camping in the area, the Gregoire Lake Provincial Park provides plenty of camping areas. Amenities and activities include:
BoatingCanoeing
Kayaking
Cross Country Skiing
Fishing
Hiking
Horseshoes
Fish Cleaning Stations
Firepits
Boat Launch
Swimming
Ice Fishing
Sailing
Snowmobiling
Picnic Shelter
And More!
Hangingstone Provincial Recreation Area
If you love birding and camping, this is the place for you. The Hangingstone Provincial Recreation Area also provides firepits, a playground and more.
Maqua Lake Provincial Recreation Area
With firepits, canoeing, kayaking, swimming, hiking and more, this provincial area is perfect for camping. Maqua Lake provides a number of good camping areas and plenty of fun activities.
Other area campgrounds include:
Camp Yogi Campground
Christina Lake Campground Conklin
Tower Road Campground
Rotary Park Campground
Lewyk Park Campground
Golden Eagle Resort Campground
Centennial Park Campground
If you're planning a camping trip for when the weather becomes warmer, now is the time to start making your plans. You will want a place that can handle all your needs from fishing to boating and more.
With plenty of options, you may want to check out the different campgrounds before choosing the right place for you. Make sure to look into the options for tent sites, RV sites and other types of camping before finalizing your plans.