A Winter Activity You May Not Have Discovered Yet
Posted by Brett Campbell on Monday, December 2, 2013 at 10:15:46 AM
By Brett Campbell / December 2, 2013
Comment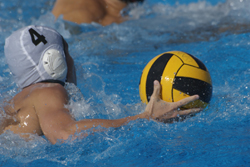 It may seem strange, it's cold outside and Water Polo is making a huge splash in Fort McMurray. This is a very new opportunity to the city, but it makes a lot of sense.
When the winter rolls around, it gets very cold outside and many residents turn to skiing, snowboarding, snowmobiling and many other outdoor activities requiring snow. Water Polo doesn't require snow, but it fits well because you play inside.
Cecil MacPhail is responsible for this new recreational opportunity. He is an instructor and lifeguard at the MacDonald Island Park facility and decided it was time to add water polo to the area. There wasn't a club for this sport in the area, so he decided to start one.
Cecil used to play the sport back in Prince Edward Island, which is his original home, but couldn't find anywhere to play in the Fort McMurray area. However, this has changed, which brings another great choices for indoor fun to the city.
From 8pm to 9:30pm on Monday nights, you can enjoy this fun and exciting water sport at the Syncrude Aquatic Centre. MacPhail will be there playing and so will many others.
Water Polo may look very easy, but it's not. This is a hard sport and requires stamina, strength and the ability to swim, of course. This is a great workout for those looking to enjoy something different. Players must constantly be swimming or treading water, but they also have to control the ball at the same time.
Playing on Mondays is open to both men and women. MacPhail hopes to raise awareness and build the sport in the area. If all goes as planned, he would like to field a travel team and add another club to the 18 other clubs found within the Alberta Water Polo Association.