A Popular Winter Activity in Fort Mac: Ice Fishing
Posted by Brett Campbell on Friday, November 15, 2013 at 2:31 PM
By Brett Campbell / November 15, 2013
Comment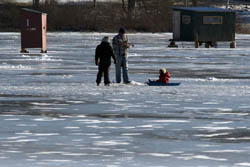 As the weather gets colder, ice fishing season will be in full swing. This is a very popular time from about December to April in Fort McMurray. Many will flock to the iced over lakes and ponds, drill their holes and enjoy dropping a line with the potential of catching a very cold fish.
Before heading out for your ice fishing adventure, it's important to check the local regulations. You may need to build a temporary shed before you start fishing.
Ice fishing is very popular because of the lower food production for fish. This creates an increased interest in the bat used and often yields a large number of perch and whitefish. Walleye, trout and pike are also possibilities during the ice fishing season.
Tips for Successful Ice Fishing
Safety comes first whenever embarking on an ice fishing journey. You need to think about how you will stay warm, how early you want to go, how late you want to stay, what type of clothing you will wear and the weather conditions. The ice needs to be at least 4 inches thick to walk on. Make sure to check the ice reports in the area you plan to do your fishing in before you head out.
If you want a little extra comfort, building an ice fishing house will make it a bit warmer. You can choose between a portable shelter or a shack, depending on how much you want to spend and how portable you want the shack to be.
Here are a few essentials you will need for your adventure.
Bait - Smelt and minnows are very popular
Tackle
Ice auger
Bucket
Pliers
Ice fishing rods
8-pound test ice line
Tip-ups
Leaders
Matches
Fishing license
Water and snacks
Filleting knife
Extra clothing
Mouth spreader
Some things that will make your day a little easier include:
Hand warmers
A compass
Heater
Ice fishing shack
Power ice auger
Two-way radio
Bobbers
Ice pic
Hatchet
Flashlight
Camera
Lantern
Sled
Sunglasses
Flasher depth finder
With these tips, you can have a great time enjoying ice fishing this season throughout the Wood Buffalo area.