A New Store Opens at Peter Pond Mall
Posted by Brett Campbell on Wednesday, November 13, 2013 at 2:15 PM
By Brett Campbell / November 13, 2013
Comment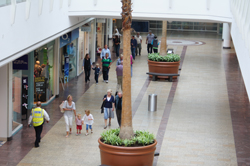 The second floor of the most popular shopping destination in Wood Buffalo recently saw a new addition. HMV opened a store here and is ready to serve the Fort McMurray residents.
Many may think a store carrying DVDs isn't necessary, but plenty of people still buy DVDs, CDs and more. This store fulfills a need in the community and provides an easy way to get the top movies as soon as they are released.
Of course, the store carries more than just movies. With plenty of CDs, TV shows on DVD, books, collectibles, t-shirts and more, there's plenty to choose from at HMV. Before the opening of this store, the only place to find movies on DVD in the area was Wal-Mart. The selection at HMV is far better.
The company stated that they have been targeting the Canadian market for years and had been considering a location in the Fort McMurray area. After the Grande Prairie location opened and provided plenty of success, the company was ready to move forward with the plan for another location.
The store is located next to Spencer's Gifts on the second floor of the Peter Pond Mall. Nick Williams, the president and CEO of HMV is excited about the new opening and believe this unique market will provide another successful store for the company.
Other new stores in the Peter Pond Mall include:
Spencer's - A unique place for quirky gives, this store is a popular choice in the mall.
Ardene's - The place for affordable fashion, you can find new goods here weekly and plenty of inexpensive jewelry, clothing, footwear and more.
David's Tea - Another new store featuring plenty of great tea. Over 150 different types of tea are found here including exotic to limited edition.
The Children's Place - A Top specialty retailer in the country, this is the place for children's clothing
Volcom - The right place for all your streetwear, swimwear and outerwear.
Michael Hill - Find the best jewellery in the area here.
New York Fried - If you love hand cut fries, this is the place for you.
All of these new stores are helping to make the Peter Pond Mall a better place for shopping.