A Nationally Recognized Park in Wood Buffalo
Posted by Brett Campbell on Wednesday, September 11, 2013 at 3:13 PM
By Brett Campbell / September 11, 2013
Comment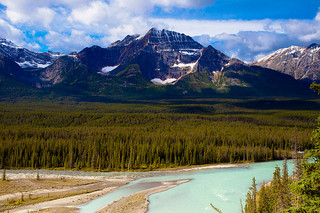 Not only has Wood Buffalo Park made news on the local and national level, but it's been in the news all across the globe. Recently, the Royal Astronomical Society of Canada named the park as the largest dark sky preserve in the world.
The park is fond on the border of N.W.T. and Alberta, very close to Fort Smith. In celebration of this event, the park held a Dark Sky Festival from August 23rd to 25th with camping, a planetarium adventure, night sky viewing and astronomical presentations.
Alberta's Jasper National Park was the previous largest dark sky preserve. This designation will allow the park to preserve ecology found in the night, such as nighthawks, owls and bats. It will also allow more visitors to experience the Northern lights.
About Wood Buffalo National Park
This park is the largest national park in Canada and provides protection for bison, along with many activities. Visitors can enjoy camping, canoeing, hiking, boating, wildlife viewing and all types of adventures. Whether visiting the park during the day or at night, you will find plenty of great things to do here.
Many programs are also offered at the park, including:
Paddle Your Way - canoe Tours at Pine Lake on Saturdays and Wednesdays
Guided Hikes on Tuesdays and Thursdays
Campfire Programs on Saturdays
And More!
Along with the programs, many events are held here throughout the year including:
Canada Day Events
Parks Day Weekend
Dark Sky Festival
And More!
The park is open from June 1st to August 30th from 9am to 6pm all week. The rest of the year, the park is open from 9am to 12pm and from 1pm to 5pm Monday through Friday.
Fees for the park depend on the rental or service you choose. Camping, fishing and tours are all available with fees ranging from about $10 up to about $75.