A Gym with a View
Posted by Brett Campbell on Wednesday, August 21, 2013 at 2:27 PM
By Brett Campbell / August 21, 2013
Comment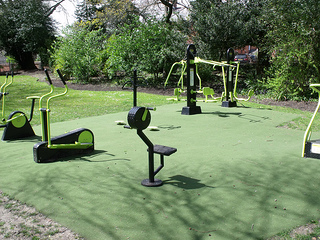 Have you ever wanted to work out at a gym with a view? Of course, many gyms have a view of the city, but none compare to the Outdoor Green Gym found in Fort McMurray. This is the largest outdoor exercise equipment circuit in all of Canada and provides plenty of choices for those looking to get in shape. Whether you prefer to use the Birchwood Trail System or the exercise equipment, you're sure to get a great workout.
The gym includes 14 stations and over 50 pieces of equipment. You might be wondering how this equipment can withstand the weather. It's built for outside and lasts many years without the need of replacement equipment. Each piece uses your body weight to create resistance and provides many safety features. This is a great way to get a full body workout or just work on one specific muscle group.
Equipment includes:
Spinners
Air walkers
Elliptical
Hand Bikes
Leg Presses
And so much More!
The only downfall to the Outdoor Green Gym is the winter. The equipment is only available in the spring, summer and fall, but most residents wouldn't want to use it in the winter anyway.
The gym is a part of the commitment made by Fort McMurray to the health and wellness of the residents of the community. When it was originally built, it cost $250,000 and many residents believe it was well worth the cost. You don't need to pay a membership fee to use the equipment and you can get your workout while breathing fresh air.
No better gym is found in the area and as the largest outdoor gym in Canada, this is the place to get in shape. Along with the gym, you can use the Birchwood Trail System for cardio exercise.